Game Date:
06/14/2019
7:10pm EST
Lines:
St. Louis +1.5
New York -1.5

Total:
Over 9 (+100)
Under 9 (-120)
Community Picks: St. Louis 50% vs NY Mets 50%
St. Louis and NY Mets Thread
Team Tweets & News Articles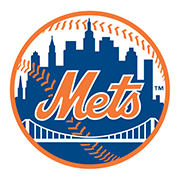 Kolten Wong and Harrison Bader delivered back-to-back run-scoring hits with two outs in the ninth inning Thursday night for the visiting St. Louis Cardinals, who managed to tie the New York Mets 4-4 in a game that was subsequently suspended due to torrential rains. The game, which was officially suspended after a delay of about 50 minutes, will resume at 6:10 p.m. EDT on Friday, an hour before the scheduled start of the second game of the four-game series. The crew then applied drying agent, and the game resumed after a delay of nine minutes.
Continue to Article
June 13, 2019 11:25:pm EST
Nationals' Matt Adams gets creative in celebrating the St. Louis Blues Stanley Cup title originally appeared on nbcsportswashington.com The St. Louis Blues captured their first Stanley Cup in franchise history Wednesday night after defeating the Boston Bruins, in TD Garden, 4-1. While the Missouri streets were filled with Blues' fans going ballistic with excitement, a member of their extended family was celebrating in the District: Nationals first baseman, Matt Adams. "It's a big accomplishment, especially doing it in Boston," Adams said.
Continue to Article
June 13, 2019 6:50:pm EST
Michael Wacha was so excited to make his first start in nearly three weeks that he set the alarm in his hotel room for 4 o'clock. The well-rested Wacha pitched six scoreless innings in his return to the St. Louis Cardinals' rotation Monday, and they broke a three-game losing streak by beating Miami 4-1. Wacha (4-2), who was briefly demoted to the bullpen, benefited from three double plays and a pickoff in his first start since May 22.
Continue to Article
June 10, 2019 11:21:pm EST